The Best Rated Business Phone Plans for 2022
We reviewed the top business phone systems available and ranked these top choices.

RINGCENTRAL
Highest Rated Phone Service

OOMA
Good Choice for Small Businesses

DIALPAD
Best System for a 14 Day Free Trial

NEXTIVA
Highly Rated for Remote Teams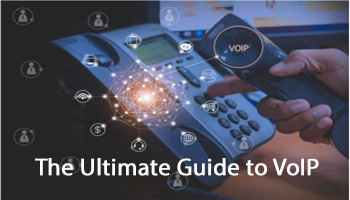 If you want to learn more about VoIP phone systems, look no further! This ultimate guide will help you understand what a VoIP system is, how it works, and the setup and cost requirements associated with it. We will also give you some tips on the best VoIP phone systems.
In This Guide
What is a VoIP Phone System?
First, let's dive into what a VoIP phone system is. VoIP Stands for Voice over Internet Protocol, which refers to any type of phone call that is made over the Internet instead of a traditional mobile network or landline.
So, how can you make a phone call over the Internet? A VoIP System works by converting your analog voice signals into a digital one that can then be sent as data through your broadband line. It is a very useful way for individuals and businesses to make phone calls because it can be much more affordable, scale easily, and seamlessly integrate with a wide variety of software applications.
VoIP is available on a traditional phone system, a computer, or even your mobile phone.
There is often concern regarding whether or not VoIP is reliable. A Voice over Internet Protocol phone system can be extremely reliable so long as you have a high-speed Internet connection. This uptime can be boosted if you have a backup power source to prevent any downtime that results from a power outage.
Video: 10 Things to Know Before Buying a VoIP Phone System
Watch this video to find out VoIP costs, features, common problems and more.
Setting up VoIP Phone Systems
Now that you understand what a VoIP system is let's get into how you can set it up. Since there are no landlines or mobile networks associated with this type of phone system, the setup is actually very simple.
The most important thing you need to set up a Voice over Internet Protocol phone is a strong Internet connection with a high level of bandwidth. As we mentioned above, this is what will make your phone system reliable.
When you are setting up your broadband connection, we recommend using a fiber optic option so that you have improved reliability and get the best out of your VoIP phone system.
Since most providers will handle your software needs, you probably just need a phone that is compatible with that service provider. Besides that, there are generally no additional hardware requirements, which is why this is such an affordable option for businesses.
If you plan to install this on a computer, you only need either a microphone or a headset to be able to complete the phone calls. Headsets are recommended because they offer better sound quality and voice clarity, but it is possible to get by with just the microphone on your PC.
The setup process for voice over Internet Protocol on a smartphone is perhaps the easiest because all you need is a Wi-Fi connection and to install the appropriate application!
How Much Does VoIP Cost?
The cost of implementing a VoIP System will vary from provider to provider, as well as the type of setup you choose. If you select app-to-app calling, it is almost always free. As you start adding additional capabilities and equipment the price may increase or require a monthly fee.
Even the options that require a monthly fee from $20 to $50 a month are much cheaper than a traditional phone system. It doesn't require extensive investment in hardware that may become obsolete in just a few years, and you are generally not locked into a specific product.
Another added benefit of Voice over Internet Protocol is that unlike traditional phone lines, you do not have added expenses due to long-distance calling. The voice is sent through the Internet, so there are no long-distance fees - This is why several providers offer free calls between coworkers regardless of where they are located.
The Best VoIP Options Available
You may be wondering what the best VoIP options are – the answer to this question depends on what your goals are and on your unique business situation.
If you have several locations and want a phone service that simplifies this, consider a company like Nextiva. On the other hand, if reliability and the options that you have in terms of features are most important to you, try out RingCentral.
Verizon is a great option for larger organizations, and GotoConnect (formally Jive) is best if you need heavily encrypted phone lines.
Before you decide which company to go with, make sure to do your research and fully understand what their service plans include!
References: