The Best Rated Business Phone Plans for 2023
We reviewed the top business phone systems available and ranked these top choices.

RINGCENTRAL
Highest Rated Phone Service

OOMA
Good Choice for Small Businesses

DIALPAD
Best System for a 14 Day Free Trial

NEXTIVA
Highly Rated for Remote Teams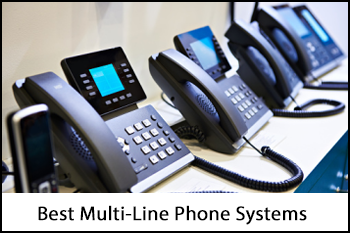 Are you ready to set up a multi-line phone system for your small business? If so, this article is for you! This ultimate guide will review everything you need to know about multi-line phone systems, including setup, costs, and the best options for small businesses.
In This Guide
The Basics of Multi-Line Phone Systems
A multi-line phone system is a perfect option for small businesses because it allows several people to use the phone at once. You can connect the lines externally, so you can communicate with people outside of the business, or internally to communicate with other employees.
Unlike traditional phones that can only send audio between two parties, a multi-line phone system can manage four or more lines at once. The benefits of utilizing a multi-line phone system include reduced costs, enhanced features and flexibility, and improved reliability and security.
Setting Up a Multi-Line Phone System
Setting up a multi-line phone system is relatively simple. The first thing you need to do is figure out how many lines your small business needs.
If your business operates on a small scale and has minimal employees, A 2-line phone system may be perfect for you. Two lines are also a good option for entrepreneurs who want to set up a personal phone line and another for business calls.
If your small business is slightly larger, a 4-line phone may be required. This makes sense if you have several employees that need to use the phone at the same time. Having four lines available will enable communication to occur more effectively!
To set up the system, all you really need is an Internet connection and a phone! Your service provider can work with you to set up the various phone lines and get your system online.
Best Multi-Line Phone System for Small Business
The best multi-line Phone systems for small businesses are the Vtech CM18445 Main Console and the AT&T 1070 4-Line System.
Vtech CM18445 Main Console
The Vtech CM18445 Main Console 4-Line expandable answering system Is one of the best multi-line phones for small businesses. It is especially effective for organizations that experience high call volumes throughout the day and need to place people on hold. It is easy to set up and configure and can be made compatible with up to four different phone lines.
AT&T 1070 4-Line System
The AT&T 1070 4-Line Expandable Corded Phone System is another great option for small businesses. It includes Caller ID and call waiting features, so it is the perfect fit for small teams that collaborate regularly. This impressive system can facilitate up to 16 workstations at one time, allow us for 32 numbers to be saved on speed dial, and includes three-party conferencing.
The Cost of a Multi-Line Phone System
The amount you will spend to install a multi-phone line system will vary depending on the number of phone lines you need. The more lines that are added into the system, the more expensive it will be.
A handset with two lines and standard features will range from $50 to $200. Multi-line phone systems with four lines will cost anywhere from $100 to $400 per handset. Most of these systems can be purchased at an office supply store or three your business phone provider.
It is important to note that you must also account for the service fee related to the multi-line phone system. Although this price will vary by vendor and the type of features that you choose, it will normally cost you between $50 and $100 each month.
References: