The Best Rated Business Phone Plans for 2022
We reviewed the top business phone systems available and ranked these top choices.

RINGCENTRAL
Highest Rated Phone Service

OOMA
Good Choice for Small Businesses

DIALPAD
Best System for a 14 Day Free Trial

NEXTIVA
Highly Rated for Remote Teams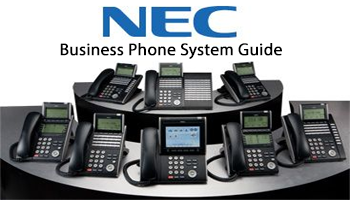 Are you using a new NEC Phone System for your business? Need some help setting it up? Here's some guidance on how to make the most of your new NEC business phone system.
About NEC
More people than ever are now finding themselves working from home and the need for capability within businesses to allow staff to work remotely has increased immeasurably.
Customers still expect to be able to reach your business by phone and therefore having a good system in place is integral to your success.
NEC business phones are a smart and cost-effective way to keep your employees and customers connected and keep things running smoothly. As a world leader in the production of electronics equipment, their phones are excellent value for money.
In This Guide:
NEC Phone System Features
NEC phone systems come in a range of shapes and sizes and with a number of unique features, including:
High reliability
Powerful yet affordable devices
Wide range of applications and devices available
A suite of Unified Communications and Contact Center Solutions
Wide range of endpoints
Scalable
Easy to use interfaces
Setting Up & Use
NEC phones have been designed to be intuitive when being set up.
With easy to use interfaces, the phone will guide you through its different settings and capabilities when you go through the initial set up process.
If you come into any issues later down the line when you are using the phone, they should come with a really easy to navigate guidebook, or you can have a look online which should give you an answer to the issue you are having.
Something like this should help you to find the answer to your question!
NEC Phone System Pricing
How much should you be looking to pay for your NEC phone system?
This will depend on what you need for your business, but some examples of how much different systems might cost you are:
$1000 – a system capable of handling up to 4 lines and providing you with 3 NEC phones
$1,400 to $5,000 – a system with 8 lines and 4 phones ($1,400), 8 lines and 8 phones ($2,400), 16 lines and 24 phones ($5,000).
$7,500 - $15,000 – the cost of an NEC DSX-160 phone system. $7,500 gives you around 16 lines and 32 phones whereas the same system with 48 phones will cost in the region of $10,500.
These are just estimates based on the number of lines and phones you might need. To get a price that is suited just for you and your needs, it would be better to have a discussion with someone at NEC (or a provider) to get a personalized quote.
Is an NEC Business Phone System a good choice for you?
If you are looking to purchase a phone system for your business, choosing NEC as your supplier is going to be a good choice for you. The brand has a reputation of being one of the best providers of electronic systems in the world.
You can therefore guarantee that their products are going to be good quality without losing any of the capabilities of the other brands on the market.
References: