The Best Rated Business Phone Plans for 2023
We reviewed the top business phone systems available and ranked these top choices.

RINGCENTRAL
Highest Rated Phone Service

OOMA
Good Choice for Small Businesses

DIALPAD
Best System for a 14 Day Free Trial

NEXTIVA
Highly Rated for Remote Teams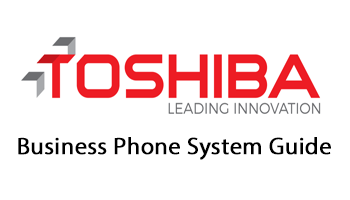 Are you using a new Toshiba Phone System for your business? Need some help setting it up? Here's some guidance on how to make the most of your new Toshiba business phone system.
* As of March 2017, Mitel has acquired Toshiba's phone system business.
About
Toshiba is one of the most well-known names in the communications industry, so it is no wonder they are they obvious choice for your business. One of the desirable features of the phone system is that they are easily scalable. As business needs change, it is easy to upgrade and expand to suit your requirements.
In This Guide:
Toshiba Phone System Features
Toshiba business phone systems have incredible features which are designed to help improve communication both internally and externally. Some of the features you can expect from a Toshiba phone system are:
Voicemail
Audio and Video Conferencing
Customisation to maximize productivity
Voice over and IP systems offering Video Conferencing for enhanced collaboration
The merged IP Voice Communication system offers the ability to connect digital phones as well as having a wide variety of customizable features
Large LCD displays on the phone providing instructions
Programmable buttons
Cloud service named VIPedge without the cost of a server
Setting Up & Use
Toshiba phones are easy to set up and use.
When you come to initial set up, you will be guided through what you need to do to customize the phone to your needs.
If you come into any issues later down the line when you are using the phone, they should come with a really easy to navigate guidebook, or you can have a look online which should give you an answer to the issue you are having.
Something like this should help you to find the answer to your question!
Toshiba Phone System Pricing
It is hard to give an exact estimate as to how much a Toshiba business phone system might cost as it will largely depend on what your needs are and the size of your business. The cost will change depending on your personal circumstances, size of your business and what functionality you need from the phones.
Smaller businesses may benefit from a system which costs around $3,000 - $3,500. This provides you with around 8-16 digital phones, multisystem networking and a call center facility amongst other features.
The next level up from this is around $3,600 - $6000 and has up to 72 telephones, advanced voicemail options and more customizable features.
The most advanced system available is likely to be about $6,500 to $10,500 which includes video conferencing, up to 560 telephones and the highest number of customizable features.
Phones themselves are around $250 to $300 each to buy.
Is a Toshiba Business Phone System a good choice for you?
If you are looking to purchase a phone system for your business, choosing Toshiba as your supplier is going to be a good choice for you. It is a solid and reputable brand that is an expert in the business. At each level of system you choose, the phones will have the capabilities you need from it to make running your business that bit easier!
References: