The Best Rated Business Phone Plans for 2023
We reviewed the top business phone systems available and ranked these top choices.

RINGCENTRAL
Highest Rated Phone Service

OOMA
Good Choice for Small Businesses

DIALPAD
Best System for a 14 Day Free Trial

NEXTIVA
Highly Rated for Remote Teams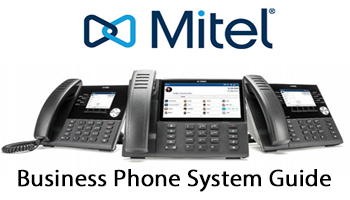 About Mitel Business Phone Systems
Another one of the great unified communications systems available to both small and large businesses, Mitel phone systems can be either cloud-based or located in an on-site system, so businesses can choose whether they wish to monitor updates and maintenance themselves, or have Mitel do this for them in the cloud.
Mitel phone systems combine a range of calling, collaboration, contact center, and mobility administration features into one system for comprehensive and robust business communication system solutions.
In This Guide:
Mitel Phone System Features
The MiCloud Connect CX
Mitel's MiCloud Connect CX is a feature which can give a business's customer experience a competitive edge. Its wide range of features include auto attendants, call forwarding and transfer, call waiting, caller ID, hold music, voicemail-to-email, call blocking and screening, as well as hunt groups, and the ability to dial using someone's name and/or extension. All of these tools are designed to improve a customer's connection with a business, making it easier for employees to track customer communications and capitalize on all opportunities without missing a beat.
Collaboration Tools
Mitel revolutionizes and centralizes all collaborations with their easy to use tools such as audio and video conferencing, instant messaging, and desktop sharing, efficiently connecting everyone within and outside of the business.
Mobile Compatibility
Mitel's system comes with their mobile app, which is both Android and iOS friendly and allows employees to use their business phonelines through their mobile devices wherever they are. Mitel customers also get access to Mitel's softphone, allowing people to make and receive calls from any computer device.
Contact Center Features
The intelligent routing, IVRs (Interactive Voice Responses), speech analytics, artificial intelligence, and advanced voice services all have the potential to revolutionize a contact center's effectiveness and ease of use.
Mitel Phone System Pricing
Mitel's cloud-hosted and on-site system options both come with different pricing structures. While the cloud hosting option is charged on a monthly per-user basis, the on-site system option is charged in a one off, upfront fee.
In their cloud-hosted system, users can choose from three different plan options.
The Essential plan starts at $20.99 per user per month and includes audio and video conferencing with up to 8 people at a time, and desktop-sharing web conferencing with four users at a time.
The Premier plan begins at $26.59 per user per month and includes audio conferencing with up to 25 people at a time, desktop-sharing web conferencing with 25 people at a time, and video conferencing with up to 12 users at a time.
Their Elite plan starts at $38.49 and covers audio and web conferencing with desktop-sharing for up to 100 participants at a time, and video conferencing with up to 24 users, and also includes constant call recording and archiving for all calls.
There are additional call center charges that customers need to be aware of, ranging from $12-$20 a month per call center agent, and up to $110 a month for a call center supervisor. Many users have commented on Mitel's high-quality customer support services which are available 24/7, 365 days a year, so you will be paying for great service.
On-site systems need to be negotiated with a dedicated reseller, and these charges can operate on 1-3 year contract periods that cost between $800-$950 per person, depending on what specific communication needs you have.
Unlike other providers though, Mitel allows you to mix and match different service plans with different users so that you don't have to purchase an advanced package for everyone when only a few employees require it. This keeps costs down and allows businesses to pick and choose which employees get access to specialized communication options.
References: