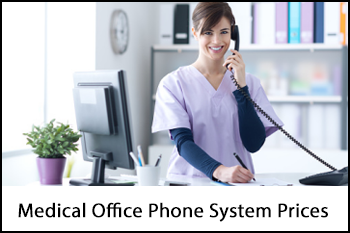 Are you looking for a new medical phone system? If so, this guide is for you! Keep reading to learn more about the features and pricing for the best hospital phone systems.
In This Guide
Must-Have Features
In the medical field, there are several must-have features when it comes to choosing a phone system. Let's review some of those in further detail:
Automated Support
Many of the issues that patients call for could be handled through automated support. Your phone system should use interactive voice response – IVR - or chatbots to reduce the time that your patients spend waiting on the phone.
For example, enabling patients to enter their ID to request a prescription refill can reduce the workload of your current staff. It can also boost the quality of your customer service.
Tools for Live Support
Although there are several things that patients can accomplish on a self-service system, many issues will require help from one of your employees. Your phone system should be able to determine when a human representative is needed so that the customer experience can be seamless.
HIPAA Compliance
Since hospitals and medical offices deal with highly sensitive data, the phone system you choose should follow all of the HIPAA compliance requirements. It should meet all applicable security standards, especially if you are obtaining payments over the phone.
The phone should be authenticated with a unique identifier, and any stored data like recorded calls should be encrypted. The system should allow for call records to be maintained Anne there should be access controls based on an individual's role.
VoIP or Landlines: Which is a Better Option?
You have two main options when choosing your medical phone system: landline or VoIP.
Landlines
Landline phone systems are managed by your local telecom provider - this is the traditional phone system. They will install hardware in the medical office and connect extensions that allow things like transfers and call forwarding to take place.
Maintaining a landline phone system can be expensive since there is a significant amount of hardware, so generally, IT staff is needed.
VoIP
The best phone system for medical offices is a VoIP system. VoIP, which stands for voice over Internet Protocol, involves a cloud-based hosting system. in basic terms, it uses the Internet to manage call answering, forwarding, call queues, and more.
When you host your phone system on the cloud, you do not need any additional equipment or hardware to be installed. The service provider you work with will manage everything on their end for a monthly fee, which reduces the cost of maintenance and overall set up.
However, when you outsource your phone system, the control will lie with the vendor. Make sure you choose a company that has experience working with medical offices!
Medical Office Phone System Pricing
So, how much does it cost to set up a phone system for a medical office or hospital?
The answer depends on whether it's a landline or VoIP system and the included features. Similarly, the number of phones installed will also dictate the cost of the project.
If you choose a PBX system, the cost averages about $1,000 per hospital employee. You can break down this cost to about $150 per phone, or you can select a bundle that includes ten phone systems for $2,000.
Note that this does not include the monthly cost or the price of installation. Since installing a new phone system can be highly involved in a hospital, expect to pay additional fees for the initial setup. VoIP systems can be more cost-effective to set up since less hardware needs to be purchased. This option also reduces maintenance requirements.
Your telecom provider costs for data service will vary depending on your location, usage plan, and specific vendor.
References: