The Best Rated Business Phone Plans for 2023
We reviewed the top business phone systems available and ranked these top choices.

RINGCENTRAL
Highest Rated Phone Service

OOMA
Good Choice for Small Businesses

DIALPAD
Best System for a 14 Day Free Trial

NEXTIVA
Highly Rated for Remote Teams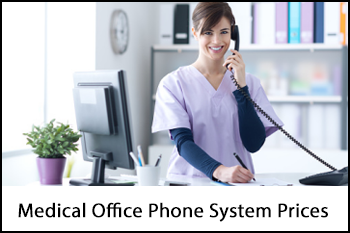 Are you looking for a new medical phone system? If so, this guide is for you! Keep reading to learn more about the features and pricing for the best hospital phone systems.
Medical Office Phone System Pricing
So, how much does it cost to set up a phone system for a medical office or hospital?
Small Practice (5 employees)
Traditional landline system: $5,000 upfront for hardware and installation, $150/month service fee
VoIP system: $500 upfront for handsets, $250 setup fee, $50/user/month = $250 monthly fee
Medium Practice (25 employees)
Traditional landline: $10,000 upfront hardware/install, $300/month service
VoIP system: $2,500 upfront for handsets and setup, $50/user/month = $1,250 monthly fee
Large Hospital (500 employees)
Traditional landline: $100,000+ upfront, $2,000+/month service
VoIP system: $20,000 upfront, $30/user/month = $15,000 monthly fee
Key factors determining costs:
Number of users/extensions needed
Traditional landline vs VoIP system
Upfront hardware, installation, wiring costs
Ongoing monthly service fees per user
Advanced features like auto-attendants, reporting, call recording
Integration with medical software, EHR systems
Training and support costs
Real Pricing for Medical Phone System Purchases
We interviewed several doctor's offices and healthcare providers to find out how much they paid for their phone systems.
A small doctor's office in California bought a 4-line phone system from TelcoDepot for $2,500. It included call routing, auto-attendant, and messaging features they need.
A clinic in Ohio purchased an 8-line phone system from Nextiva for $5,000. It integrates their main and back office lines with customized call flows.
A large practice in New York installed a cloud-based phone system from RingCentral for $12,000/year. It seamlessly connects their 30+ extensions across 3 office locations.
A healthcare provider in Florida switched to a NEC hybrid phone system that cost $8,000 upfront with $1,500/year for support. It improved call quality and redundancy.
A surgery center in Texas upgraded to an Avaya IP Office system for $15,000. It links 50 staff extensions and includes call recording for compliance.
A physical therapy office bought a used phone system on eBay for $1,200 and hired a consultant to program it for $500. It met their basic call routing needs on a tight budget.
A community hospital in Illinois installed an Allworx phone system for $45,000. It connects 200 staff across multiple buildings.
A large regional hospital upgraded to a Cisco Unified Communications system for $350,000. It links 1,500 extensions with advanced call center features.
A major university medical center implemented an Avaya Aura system for $850,000. It unified communications for 5,000 staff across more than 50 locations.
VoIP Costs for Telehealth
Small Practice:
Upfront costs: $500 for phones and headsets
Monthly service: $25 - $50 per provider
Large Hospital System:
Upfront costs: $2,500 -$5,000 for hardware
Monthly service: $15 - $30 per provider
Software-based Options:
Monthly fee: $100 - $300
Per minute fee: $0.01 - $0.05 per minute
Key Factors in VoIP Telehealth Costs:
Number of providers needing service
Minutes of use per provider
Features needed like video, screen sharing
HIPAA compliant encryption
Emergency calling capabilities
Top Medical Phone System Companies & Costs
Cloud-based VoIP system
Plans from $20/mo per user
Popular with small to midsize practices
Leading cloud phone provider
Plans from $30/mo per user
Scales to large hospital systems
Robust on-premise and hybrid options
Systems from $15,000 for a clinic
Up to $500,000+ for a large hospital
Top provider of on-premise IP PBX
Systems from $10,000 for a clinic
Up to $1 million+ for large medical centers
Leader in hybrid telephone systems
Systems from $5,000 for a clinic
Up to $250,000 for a large hospital
Desired Medical Office Phone System Features
Auto attendant - An automated greeting and call routing menu that directs patients to the right department or person.
Call forwarding - Allows seamlessly transferring calls between staff extensions. Important for handling patient calls efficiently.
Voicemail - Leaving messages for staff that can be accessed remotely is crucial for prompt callbacks.
Overhead paging - Intercom paging to notify staff of incoming calls or needed assistance.
Call reporting - To analyze call volume, abandoned calls, wait times to improve patient service.
HIPAA compliance - Secure communication and storage of protected health information.
Redundancy - Backup options in case of outages to avoid missing critical calls.
Remote connectivity - For staff to make/receive calls remotely during off-site events or telehealth.
Waiting room TV integration - Display educational videos and notifications while patients wait.
Appointment reminders - Automated calls/texts to reduce no-shows and remain accessible.
Mobile integration - Call forwarding to cell phones to stay connected on-the-go.
Cloud vs On Premise Medical Phone Systems
Cloud Based VoIP
Hosted offsite by the provider
Scalable - Easy to add extensions
Lower upfront costs - Pay monthly fee
Automatic updates and maintenance
Accessible anywhere with internet access
Integrates communications - phone, fax, video
On Premise
Equipment installed onsite
Large upfront investment
Maintenance and updates done in-house
Dedicated hardware - Less reliant on internet
Full control and customization
Works with existing wiring and analog phones
Key Considerations
Available budget - Ongoing costs vs large upfront expense
Existing infrastructure - Can existing wiring be used?
Staff mobility needs - Onsite only or remote access required?
Compliance - Any impact on HIPAA or regulatory compliance?
IT resources - Availability for maintenance and management
Questions to Ask Medical Phone System Providers
What experience do you have designing systems specifically for healthcare organizations?
How will you ensure the system is HIPAA compliant in securing patient information?
What training and support is included for staff to learn the new system?
How easy is it to add, remove, or modify extensions if we need to scale up/down?
What redundancy and backup options are available in case of outages?
Can you integrate with our EHR/practice management software?
What call reporting features are available to analyze performance?
Can you customize call flows and auto attendants for our specific needs?
What mobile integration capabilities are offered?
What options are there for nurses stations, overhead paging, and interfacing with mobile devices?
How are software updates and feature upgrades handled?
What do maintenance, service charges, and warranties include?
Can we see a demo and talk to any of your current medical clients?
What is the total upfront investment and ongoing operating costs?
Best VOIP phone systems for medical practices. (VOIP for telehealth & healthcare services)
Watch the video below to find out what the best VoIP phone systems for medical practices are.
References: