The Best Rated Business Phone Plans for 2023
We reviewed the top business phone systems available and ranked these top choices.

RINGCENTRAL
Highest Rated Phone Service

OOMA
Good Choice for Small Businesses

DIALPAD
Best System for a 14 Day Free Trial

NEXTIVA
Highly Rated for Remote Teams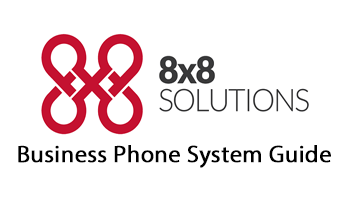 For small business owners, one sure-fire way for business to grow is with effective communication on all fronts.
A great way to successfully communicate with your customers and your team is to use the appropriate tools, which brings us to the 8x8 Phone System.
About 8x8 Phone System
The 8x8 Phone System is a cloud-based communication system that combines video conferencing and messaging capacities as well as audio phone calls. It is a unified communications system, fit for small businesses and enterprise-level businesses alike.
In This Guide:
Features of the 8x8 Phone System
Features of the 8x8 phone system include:
Voice Calling: Standard voice calling capabilities, including local, long-distance, and international calling.
Video Conferencing: High-quality video conferencing and screen sharing for virtual meetings and collaboration.
Team Messaging: Instant messaging and chat for real-time communication and file sharing among team members.
Voicemail: Voicemail with options for personalized greetings and message management.
Auto Attendant: Automated call routing and interactive voice response (IVR) to direct callers to the appropriate department or extension.
Call Forwarding: Easily forward calls to another extension or phone number, ensuring you never miss important calls.
Call Recording: Record calls for quality assurance, training, and compliance purposes.
Call Monitoring: Supervisors can listen in on live calls for training or quality control.
Analytics and Reporting: Access to call data and analytics to monitor call volumes, call durations, and more.
Mobile App: A mobile app that allows you to make and receive calls, access voicemail, and collaborate on the go.
Integration: Integration with popular business applications, including CRM systems, to streamline workflows and improve productivity.
Presence Management: See the availability status of colleagues to know if they are available for communication.
Call Queues: Route incoming calls to queues with hold music and customizable wait time announcements.
Virtual Numbers: Assign virtual numbers to team members or departments to manage calls efficiently.
Desk Phones and Softphones: Compatibility with a range of IP desk phones and softphones (software-based phones).
Hot Desking: Allows employees to log in to any supported phone and access their own extensions and settings.
E911 Services: Emergency services location information for enhanced safety.
Security: Encryption and security features to protect communications and data.
Task Management: Depending on the plan, it may include task management and collaboration tools.
Document Sharing: Some plans offer document sharing and collaboration features.
APIs: Access to APIs for custom integration and development.
Multi-Location Support: Ideal for businesses with multiple locations, providing seamless communication between offices.
How to Use
Using 8x8 phone service involves several steps, from setting up your account to making and receiving calls. Here's a general overview of how to use 8x8 phone:
Setting Up Your 8x8 Phone Service:
Sign Up: Start by signing up for an 8x8 phone service plan that suits your business needs. You can do this through the 8x8 website or by contacting their sales team.
Choose Your Devices: Decide on the devices you'll use for 8x8 phone service. This can include IP phones, softphones (software-based phones), and mobile apps.
Account Configuration: After signing up, configure your account settings, including adding users, setting up extensions, and defining call routing rules.
Making and Receiving Calls:
Making Calls: Here's how to make calls using 8x8:
On an IP phone: Dial the number directly on your phone's keypad.
Softphone: Open the 8x8 softphone application on your computer and dial the number using your keyboard or the on-screen dialer.
Mobile App: Launch the 8x8 mobile app on your smartphone, enter the number, and tap to make the call.
Receiving Calls: When someone calls your 8x8 number, you'll receive the call on your configured device. Simply answer the call by pressing the "Answer" button or tapping the screen.
8x8 Phone System Pricing
$24 per user per month sits as the most basic plan, while $140 is the top plan. Between the two are other plans which offer different levels of functionality based on the needs of specific businesses.
| Plan | Price |
| --- | --- |
| X2 | $24/user/month |
| X4 | $44/user/month |
| X6 | $85/user/month |
| X7 | $110/user/month |
| X8 | $140/user/month |
Other Relevant Information
There are many benefits that come with using the 8x8 Phone System.
Flexibility and Scalability: 8x8 provides a scalable solution that can grow with your business.
Cost-Effective: Eliminates the need for expensive on-premises hardware and maintenance.
Remote Work and Mobility: Enables remote work and mobility, allowing employees to work from anywhere.
Rich Communication Features: Offers a suite of communication tools, including voice calling, video conferencing, and more.
International Calling: Many plans include cost-effective international calling options.
Reliability and Redundancy: Designed for high reliability and redundancy.
Integration with Other Tools: Can integrate with popular business applications.
Customer Support: Typically includes 24/7 customer support.
Call Recording and Analytics: Offers call recording and analytics tools.
Compliance and Security: Designed to meet compliance standards and includes security features.
Disaster Recovery: Includes disaster recovery and backup capabilities.
User-Friendly Interface: Features an intuitive and user-friendly interface.
8x8 VoIP Review (Is it Worth it for Your Business?)
Watch the video below to see a review of the 8x8 VoIP service.
References: