The Best Rated Business Phone Plans for 2023
We reviewed the top business phone systems available and ranked these top choices.

RINGCENTRAL
Highest Rated Phone Service

OOMA
Good Choice for Small Businesses

DIALPAD
Best System for a 14 Day Free Trial

NEXTIVA
Highly Rated for Remote Teams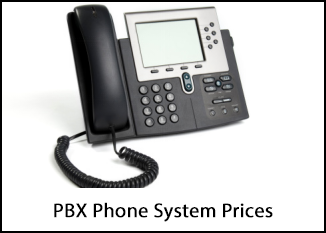 This article will review everything that you need to know about the PBX phone system. Continue reading to learn more about 4 line PBX phone systems, how they work, the best brands, and how much it costs to install.
In This Guide
A Guide to PBX Phone Systems
PBX, or private branch exchange, is a type of phone network that can be used within a business to communicate internally and externally. A PBX phone system can utilize various communication channels like VoIP, analog, and ISDN.
A benefit of this type of phone system is that it allows you to have more phones than you have actual phone lines - and you do not have to pay for calls between users. PBX phone systems also include features like call recording, interactive voice menus, call queues, and call transferring options.
Traditional PBX options required businesses to purchase proprietary phones, which required you to lock into a specific system or vendor. Technology has changed this, and now IP PBX is the industry leader. In other words, the system delivers phone calls through the Internet Protocol, so you can set up a PBX phone system without being tied to specific vendors or hardware.
How Do PBX Phone Systems Work?
So, how does a PBX phone system work?
This platform uses multiple outside lines that employees in your organization can share to make phone calls. The system also connects phones within the organization so you can have more handsets available than phone lines.
A PBX phone system works very similarly to the traditional switchboard operators that you see in old movies - incoming calls are answered and the line is connected to the appropriate recipient. The biggest difference is that technology has allowed this process to be completed automatically and without a human operator.
Best PBX Brands
Some of the best PBX brands include RingCentral Office, GoToConect, and Vonage Business Solutions.
RingCentral Office
RingCentral Office Is a cloud-based PBX phone system that provides features that facilitate business communication such as fax, video, voice, and text. They focus heavily on conferencing and auto-recording, and their platform also includes unlimited local and long-distance calling.
This brand offers a fully integrated mobile-based phone system as well, so your employees can use smartphones, tablets, or other devices to stay connected.
GoToConnect
Another top PBX brand is GoToConnect. This brand also delivers cloud-based communication solutions, which include video conferencing and VoIP. Users can access the platform on web browsers or other internet-enabled devices. Some features include internet fax, conference calling, an expensive PBX call routing system, automatic call distribution, and softphone.
Vonage Business Solutions
Vonage business solutions are also known for their PBX phone systems. This is a great option for small businesses and midsized companies since they allow you to use a VoIP system that lets users communicate through video conferencing, phone, or text. Additional features include do not disturb settings, call screening, and the ability to use multiple devices on a single extension.
PBX Phone System Cost
The cost of installing a PBX phone system will vary depending on the size of your organization. In general, you should expect to spend between $800 to $1,000 for every employee that will be utilizing the system.
Generally, the larger the organization, the greater the discount they will get based on volume. This means that when a larger company places a big order, they will pay the lower end of the price range.
This cost will include everything from the actual phones, installation, wiring, added features, and any support or training needed to get the system set up. Here is a breakdown of some of these cost components:
PBX Box: $1,000
Handsets: $40 to $500 per phone depending on features like video conferencing
Monthly Fees: $25 to $125 per month per line, depending on features
References: